Filed under: Modern Culture
6AM
A first-century AD tomb in Irbid, Jordan, will open to the public next month. The unique tomb contains oil paintings, transcriptions, and drawings. A Hellenistic temple and network of water tunnels has been uncovered at Gadara. An analysis of a water pi...
Thanks to the Eerdmans folk on Facebook for mentioning this essay (which I nonetheless had no knowledge of) – Some Theologians Never Die—They Just Wait to be Googled. Berger actually does a fair job. Or, as I remark there, it's nice to see t...
5AM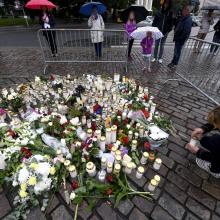 "We carry in our hearts the pain of the acts of terrorism that in these last days have caused numerous victims."
Whenever I picture talking to my Republican parents about Trump, I always anticipate an "I know you are but what am I"-style response. Obama was narcissistic, too. Democrats have supported racism in the past. You only think that because you...
Calvin has something to say- "With respect to the tabret, harp, and psaltery, we have formerly observed, and shall find it necessary afterwards to repeat the same remark, that the Levites, under the law, were justified in making use of instrumental musi...
Almighty God, you have given your only Son to be for us a sacrifice for sin, and also an example of godly life: Give us grace to receive thankfully the fruits of his redeeming work, and to follow daily in the blessed steps of his most holy life; through J...
It smelled like Christmas. I was out of the office for a rare lunchtime errand, and I had just turned the corner from Madison Avenue onto 34th Street. It hit me like childhood—the scent of pine. I couldn't believe it as I looked ahead. Wreaths lay...
4AM
These kids have more sense than the President of Liberty U.  And are better Christians. A group of alumni from one of the country's most influential evangelical Christian universities is condemning their school's president for his continued a...
This is the tenth post on the Contexts of Ministry in my Seminary in a Nutshell series. See the bottom for the previous posts in this unit, "The Person and Contexts of a Minister." I have completed one other unit in this series, The Pastor ...
THE JUBILEES PALIMPSEST PROJECT has some 2017 updates on its website which I have not yet noted. The project is devoted to technological reconstruction of (inter alia) the under-text of a Latin palimpsest manuscript containing the Book of Jubilees and a f...
Bloomsbury Central Baptist Church20 August 2017 Romans 11:1-2, 28-32 Psalm 67.1-7 I don't know if you've noticed this too, but in the last couple of years &...
3AM
BIBLIOGRAPHIA IRANICA: Revolt and Resistance in the Ancient Classical World and the Near East. Notice of a new book: Collins, John & J.G. Manning. 2016. Revolt and Resistance in the Ancient Classical World and the Near East: In the Crucible of Empire....
THE BIBLICAL REVIEW BLOG: "The Routledge Encyclopedia of Ancient Mediterranean Religions" (William Brown). Visit PaleoJudaica daily for the latest news on ancient Judaism and the biblical world.